WEDDING

You've made the walk down the aisle, proclaimed your love, and exchanged glistening wedding rings. Congratulations you are now husband and wife. Now it's time to relax, unwind, forget all the stress and celebrate the day with your guests at your reception. When you book Soundout disco's we make your big night a really special occasion.
You know that your wedding day should be one of the most memorable days of your life, and we know how important it is to you to ensure that it is - after all you only get one chance to ensure that it is - not only will Soundout Disco's provide you with great wedding reception entertainment, but you get the benefit of our years of experience and expertise to ensure your wedding is as unique as you are.
Soundout Disco's will provide you with a great wedding disco and provide you with any help you need with the finer planning of your special day to make sure everything is exactly as you wish.
At Soundout Disco's we understand how special this day is to you and will work with you to ensure you have the day you have always dreamed of.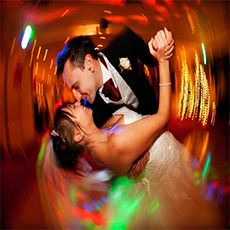 Whether it's a church wedding, civil ceremony or civil partnership it's a day that you want to remember ,but all too often the happy couple are running around on the day with so many things to do and people to catch up with that the day goes by in a blur - by engaging Soundout Disco's you will have several less things to worry about.
You may be looking for the full day package or just the evening reception Wedding DJ entertainment - with Soundout Disco's your wedding will run smoothly and you and your guests will have that special day or evening to remember.
Every wedding is different and we aim to provide you with a personalized service to give you what you want so please email or phone to discuss your requirements, alternatively we could meet at your intended venue to provide you with your perfect entertainment package.
If you are also having other entertainment at your reception such as a band or singers, Soundout Disco's are happy to work in conjunction with other performers.
We can also provide you with a beautiful LED uplighting package to enhance the room or marquee lighting if required. These bathe the room with coloured light to match your colour scheme and add a great WOW factor to your event.